There are tons of great books coming out this year. Here are a few I'm most interested in reading in the next two months:
The Flame Alphabet by Ben Marcus
I read an excerpt of this a while ago. Although the premise seems like it could go either way, the subtle way it's handled in the first chapter caught my interest. The trailer, however, is anything but subtle.
The Map and the Territory by Michel Houellebecq
I also read a short excerpt of this and am pretty interested to see where it goes. Even the expert incited a fair amount of controversy around my office so I'm eager to hear reactions to the whole book.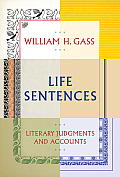 Life Sentences: Literary Judgments and Accounts by William H. Gass
I haven't read much Gass but what I have read I've liked. Plus, when we were walking around Powell's my co-worker literally started jumping up and down when I mentioned his name. She does that a lot, but still.
Satantango by László Krasznahorkai
This is probably the one I'm most excited to read that is coming out in the next couple of months. I saw the Bella Tarr movie a few years ago (at the time I was under the impression that the movie was only four hours long. It is not.) and I loved it. I'm pretty sure it won't take much longer to read the book than it does to watch the movie.
Zona: A Book About a Film About a Journey to a Room by Geoff Dyer
This one sounds like it will be pretty cool. It's apparently about Geoff Dyer's obsession with Andre Tarkovsky's 1979 film Stalker.
There are a lot more books coming out this year that I'm excited about but that will do for now. The Millions has a great list (which is where I got these) so you should check it out if you're interested.